Janesville Hardware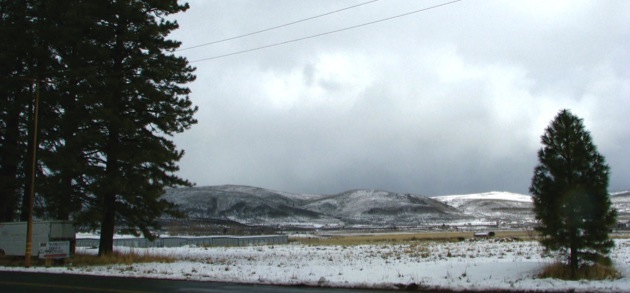 Welcome to Janesville Hardware and Lumber
We have the good fortune to live and work in Janesville, a small town in Northeastern California, where the Great Basin Desert meets the High Sierras and where small town values, community and friends still have meaning. The Woodsmith is building a new Janeville Hardware and Lumber store complex and our community is donating time and materials, and investing in our New Building Fund. The Lassen County Times published an article about our endeavors, written by Cheryl Frei, in the May 20, 2008 issue.
We are having a barn-raising! And you can join with like minded peiople, friends and members of our community in a new style of old fashioned barn-raising, and help build a small town town economy and our country.
We broke ground for our new 18,000 square foot building on May 12, 2008. Since then we have trucked in 4,000 cubic yards of DG (decomposed granite) donated by Ted Check, for the building pad. Janesville Elementary School let us use their water to fill the water trucks used to wet down the building pad during compaction of the fill and Steve Schmidt of NST Engineering did the compaction tests. We have poured the drive through building material, and manufacturing section's footings and we are now pouring sections of the large slab in the drive through building materials area. We are working on the first post of the sign structure on the Main St. side of the new building, it will contain a meter main/breaker for parking lot lights and the well.
Steve's Pumps drilled a 25gpm well on September 26 and hit water at 140' and stopped drilling at 160'. We have water, I am ordering the pump and pressure tank with our next stocking hardware order.
We need more investors so we can move on to the next stage which will be to dry in the new building by New Years. Upwards of $300,000.00 is needed for SIP's (Structural Insulated Panels), metal roofing, the main electrical system with power cables, main 6-meter panel and the septic system.
Out thanks to Jake and Margaret Marshall have increased their investment once again to a new total of $85,000.00. And Tyler Morgan of Milford, California, who has invested $80,000.00 in the New Building Fund, is out thre helping in the construction of the new building. Tyler, Jake and Margaret, Steve and Cathy Maggard and our 27 other investors invite you to join them in the Janesville Hardware "Founders Club". And you don't have to live in Janesville, or even in Lassen County to be a part of our community "barn raising", and earn 8% interest, accrued monthly, 8.3% APR, on $5,000 and larger investments. Investors also get store discounts and a membership in our Founders Club. We need your investment and your help in spreading the word to friends, family and neighbors who might be interested in an investment opportunity in Janesville and Lassen County and their country. We already have investors from outside of Lassen County, and are looking for more people interested in "Small Town USA". You can help restore faith in our country, our economy and the spirit of free enterprise.
The new Janesville Hardware and Lumber complex will bring local shopping opportunities to Janesville and Lassen County, where you can experience a small town atmosphere without the big city attitude, and save time, gas and money. We have been open every day, including Sundays and holidays, for over 16 years and are not about to change.
The new complex willl comprise Janesville Hardware and Lumber, Janesville Auto Parts, a Deli-Café and we have leased another 2,500 square feet of office space to Natalie Fuller of Colco Insurance, 530-257-8544, and Ed and Tammy Swayze of Customer Talk, 530-253-2211, a promotional advertising firm.
We would be happy to answer any questions you may have about the store, the building investor opportunity. And let everyone know how they to can earn 8% interest investing their money in Janesville.
Call anytime or come by and see what's happening. Suggestions and comments are welcome.
The New Building Fund jar on the counter has collected $1,463.71 in donations.
Thank you for your time, interest and help,
Norman Allen Owner/builder
A short history of The Woodsmith and Janesville Hardware and Lumber
1972 I started The Woodsmith as a cabinet shop in Arcata, California 1980 We moved to Janesville, built a cabin in the woods and continued cabinetmaking 1992 Started selling tools and hardware out of a 600 square foot store in Janesville and bought 4 acres of commercial property across from our current location, with the intent of expanding at a later date 2005 Tired of trying to deal with banks that won't loan on bare commercial land, I found that people in Janesville were supportive of, and willing to invest in a new store and their community 2008 Building permits were finally obtained after 2 years of working with Lassen County and construction began on May 12
Copyright © 2010 The Woodsmith. All rights reserved.